Restore Your Smile with a Lifelike Implant-Supported Bridge
An implant-supported bridge is a secure, durable, and lifelike method for replacing two or more consecutive missing teeth. This type of restoration can restore the appearance of your smile and provide an unmatched level of support and functionality. In contrast to traditional bridges that rely on neighboring teeth for support, implant-supported bridges are affixed to dental implants placed in your jaw. At Ridgewood Dental Associates, we can perform virtually every stage of your implant treatment and restore your smile with a highly aesthetic bridge for incredible results. Our team of prosthodontists serves the greater Bergen County area from our Ridgewood, NJ, dental practice.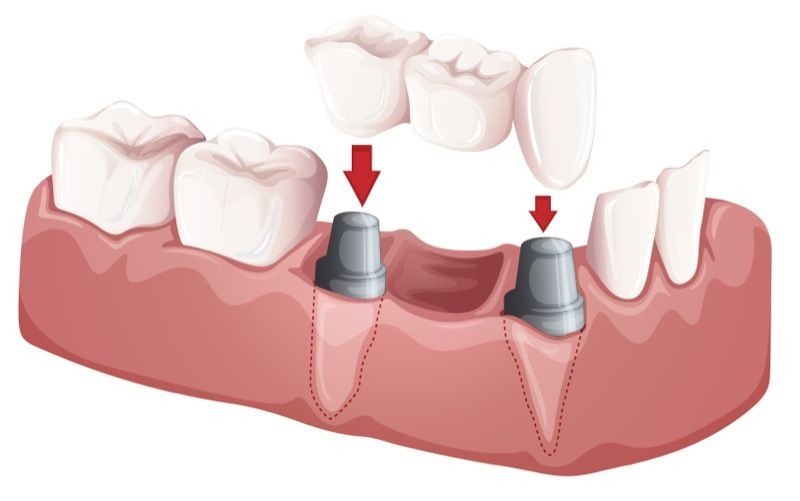 Is This Type of Bridge Right for Me?
Candidates for this type of restoration are missing two or more teeth in a row. Additionally, since dental implants fuse with the surrounding bone, it is crucial to have sufficient tissue in your jaw to support the posts. Patients who have left missing teeth untreated for a long period of time often lose significant portions of bone tissue. If this is the case, a bone graft or sinus lift procedure can restore your candidacy for this life-changing treatment.
Our team can determine your candidacy for dental implants during an initial consultation at our office. During this time, we can take 3-D digital scans and x-rays to assess your oral health as well as the density of your jaw. Additionally, we can ensure that you are free of any underlying oral health concerns, such as gum disease or decay, before placing your implants.
Advantages over Traditional Bridges
When a traditional bridge is placed, it is supported by the teeth on either side of the gap by a pair of dental crowns. In order to affix the crowns, your dentist must first alter the structure of the supporting teeth to ensure a comfortable fit. This process weakens the structure of the supporting teeth. Since implant-supported bridges attach to implants instead, the structures of your remaining teeth are protected.
Dental implants are designed to last. Once the implant posts are in place, the foundation can last a lifetime with proper care.
In addition, traditional bridges do not prevent bone tissue loss associated with missing teeth. Dental implants are the only tooth replacement solution that actually protects the health of your jaw. The posts act as artificial tooth roots, stimulating the jaw in the same manner as natural teeth for improved jawbone health.
Some patients may prefer traditional bridges because they are less expensive than implants. However, dental implants are designed to last. Once the implant post is in place, it can last a lifetime with proper care. In contrast, bridges tend to last about five to seven years, requiring additional replacements that can add up over time.
Placing an Implant-Supported Bridge
Once your dentist determines you are a candidate for an implant-supported bridge, we can use our advanced planning technology to determine the optimal location of your implants and develop a surgical guide. After placement surgery, it typically takes three to six months for the jaw to heal sufficiently for a restoration to be placed.
After your implants have fused with your jaw, we can take a series of digital impressions to design your bridge. Generally, our lab takes two to three weeks to fabricate a prosthetic. During this time, we may fit you with a temporary restoration to protect your smile. When your bridge is ready, your dentist can attach it to the implant posts for a fully restored smile.
Invest in Your Oral Health
While implant-supported restoration can be more expensive than traditional options, they offer the unique benefit of protecting the health of your jawbone. When the tissue in your jaw atrophies, it can lead to further bone loss or other aesthetic and health concerns. By replacing the entire structure of your tooth, dental implants prevent tissue deterioration and protect your overall oral health. To find out more about implant-supported bridges and the other implant-supported restorations we offer, contact our office online or call us at (201) 652-2474 today.