If you suffer from tooth loss, it can negatively impact your oral health and appearance.
Modern dentures help patients who are missing most or all of their teeth achieve a functional and natural-looking smile.
At Ridgewood Dental Associates in Ridgewood, NJ, we offer full and partial dentures that can be either traditional or implant-supported...
Our practice is located in Ridgewood, NJ, and serves patients from Bergen County and surrounding areas of New Jersey.

Do Dentures Look Natural?
As dentists, we hear this question often. We're happy to say that yes, dentures do look just like natural teeth. Thanks to advances in dentistry, such as All-on-4® dental implants, your dentures can even remain permanently in place. Don't believe us? These results speak for themselves.
All-on-4 Dentures
Before and After
A Patient's Perspective
On Our Understanding Ridgewood, NJ, Team
I have had a lifelong fear of the dentist and really neglected to have yearly checkups. That coupled with just inheriting bad teeth bought me to where I am now. A couple of years ago after multiple root canals and extractions, my dentist recommended a full mouth reconstruction. I had many missing teeth, broken teeth and teeth that were dropping due to the opposite gaps. I never smiled with my mouth open and eating was becoming painful. It took over a year for me to finally make an appointment for a consultation. After extensive research on local dentists specializing in Restorative and Prosthetic Dentistry, I found RDA... 3 months later, the implants are all healed and ready for the next step. This is where Dr. Samani comes in. He is an artist. The amount of time spent on just crafting the temporaries and the tremendous amount of prep work on my gums and teeth shows his perfectionism... My temporary new smile has already changed the way I speak, eat, and smile. I am so excited to see Dr. Samani's final result. He takes his time and obviously prides himself on a perfect end result.
View on Google
Contact Our Dentistry Practice

It's not difficult to find a dentures provider. However, it can be difficult to find a practice that can provide you with dentures that fit correctly, contribute to a balanced and healthy bite, and are crafted to provide years of benefits. Doesn't your smile deserve a high-quality solution?
At Ridgewood Dental Associates in Ridgewood, NJ, Drs. Jin Ha Joung and Mark Samani are specialists in prosthodontics, which is the replacement of missing teeth. We can provide many different options at our dental practice, and we are prepared to find exactly the right fit for your needs.
Contact our dentistry practice online to ask a question or request a consultation. You can also reach us by phone in Bergen County:
Types of Dentures

Traditional Full Dentures
A traditional full denture, or complete denture, has a plastic base that fits over your gums. A complete denture will replace all of the teeth on your upper and/or lower jaw.

To create this type of prosthetic, your doctor will first take impressions of your gums. We will provide a temporary denture to wear while you wait for your permanent dentures.
Partial Dentures
Partial dentures are made for patients missing several teeth, but not an entire dental arch. In many ways, a partial denture is similar to a full denture. It has a gum-colored plastic base that fits over your gums, and prosthetic teeth that fill out your smile.

However, while full dentures are held in place with suction and dental adhesive, small metal clips connect a traditional partial denture to adjacent teeth. The patient's remaining teeth support the prosthetic.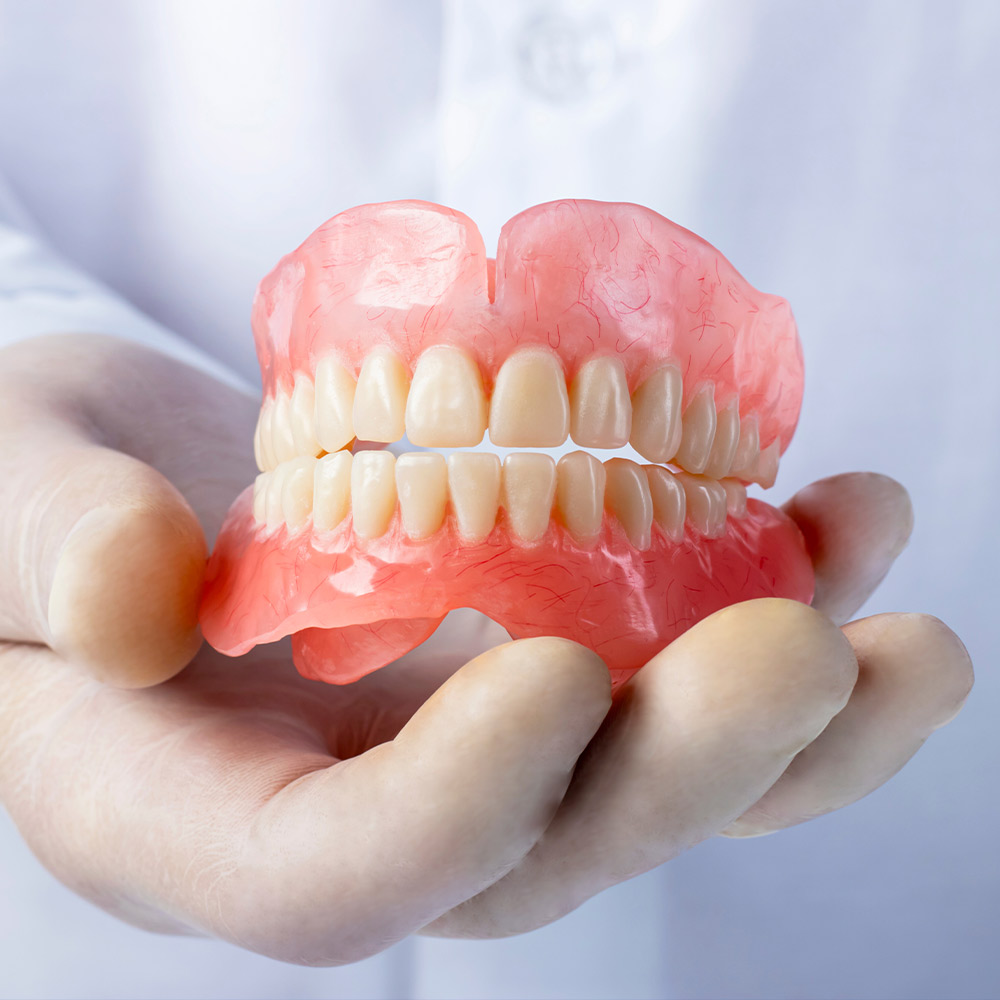 Immediate Traditional Dentures
It will take time to craft your denture, but that doesn't mean you have to suffer with an incomplete bite during that time. After you have received preparatory treatments and we take impressions of your bite, we will provide a temporary (immediate) denture that you can use in order to achieve a functional bite in the meantime.
Implant-supported Dentures
While traditional dentures are highly beneficial, patients can experience greatly enhanced stability, function, and aesthetics with implant-supported dentures.

Dental implants are titanium posts that are surgically inserted into the jawbone to replace the root of a tooth and support different kinds of dental prosthetics. Over time, the implants fuse to the jawbone and provide stimulation that prevents bone atrophy. As with other types of dentures, we can provide temporaries to wear as you wait for your implants to integrate with your jawbone and become ready to support your permanent dentures.
All-on-4 Implants
Our dentist may recommend All-on-4, which secures a full-arch denture on just four strategically placed implants. This option may be the ideal solution for patients who have suffered mild jawbone atrophy due to prolonged tooth loss, since All-on-4 implants can sometimes be placed without the need for a bone graft.
Traditional vs. Implant-Supported Dentures

Confused about your dentistry options? Our Bergen County, NJ, dentists can help you determine which type of denture best fits your dental needs and your lifestyle.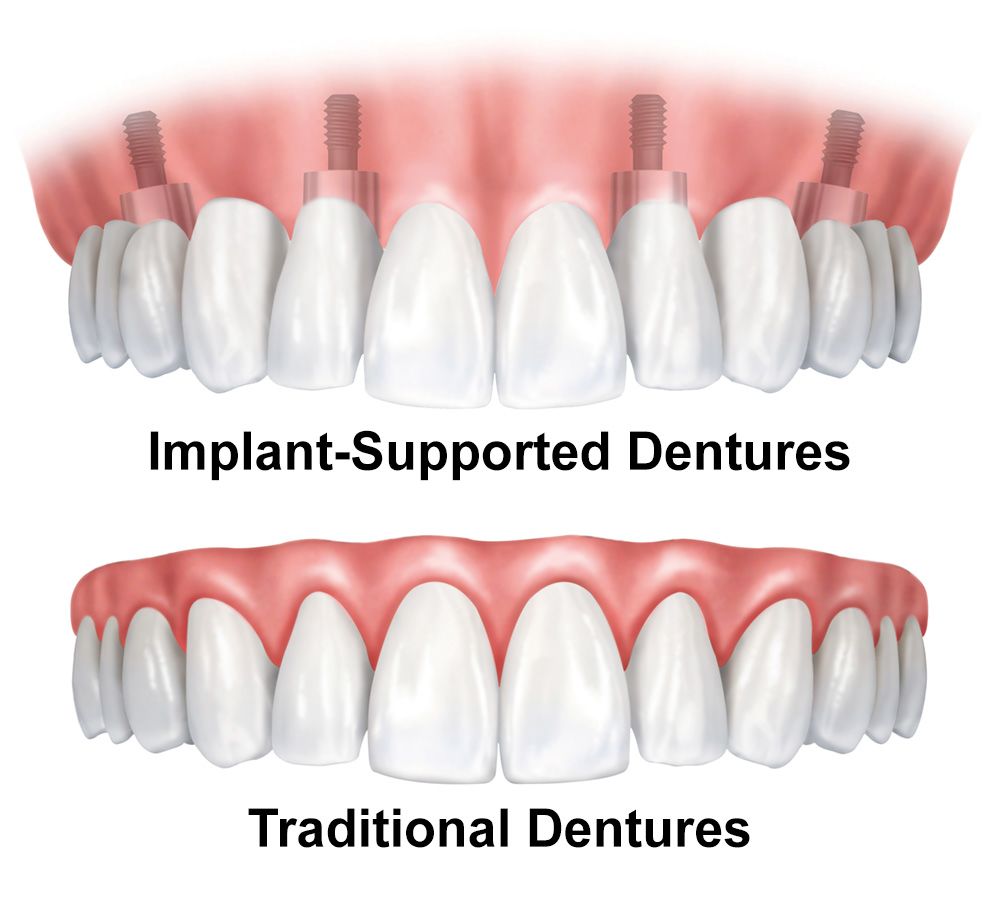 Implant Dentures Provide the Best Stability
Implant-supported dentures will not shift out of place as you chew or speak. They're as stable as natural teeth.
Implant Dentures Protect Jawbone Health
Dental implants halt the bone loss that follows the loss of a tooth.
Traditional Dentures Don't Require Surgery
A traditional complete denture does not require dental implant placement.
Traditional Dentures Don't Require Recovery Time
Because it does not require recovery from surgery, a traditional denture is also a quicker solution.
Traditional Dentures Cost Less
If cost is a concern, a traditional denture offers a more affordable option while still providing improved function and appearance.
Why Are Implant-Supported Dentures So Secure?
Take a look:
Understanding the Difference
At Ridgewood Dental Associates
"I have had a lifelong fear of the dentist... but from the minute I first walked into the office, I knew I made the right decision... Dr. Joung took care of the implant surgery and my initial nervousness that day subsided immediately. He and his assistant made me feel comfortable and the confidence I felt just watching them work together was incredible. It was like watching a well-choreographed dance... This is where Dr. Samani comes in. He is an artist. The amount of time spent on just crafting the temporaries and the tremendous amount of prep work on my gums and teeth shows his perfectionism."

Nicole Vazquez
The Need for Dentures
Is More Common Than You Might Think
Are You Looking for Custom-Made Dentures?
Visit an Office That's Full of Possibilities
If you're worried about finding a team that has the skill, knowledge, and kindness to care for you, the search is over. Ridgewood Dental Associates can help you with every step of the denture process with true understanding and compassion.
We offer several types of dentures, including implant-supported ones, giving you more options for additional peace of mind. Because our dentists can place your implants instead of referring out, you won't have to go from office to office. Instead, you can rely on the same team you trust for excellent care.
Each patient is different. Our dentists see you as the individual that you are — and we're excited to find the solution that's right for you. From complete dentures to partial dentures, we can lead you through each of your dentistry options.
Ready to start smiling again? Contact us or call our Ridgewood, NJ, team at
Do You Need Dental Financing?

You have an option to help you account for the remaining costs. Our caring team accepts CareCredit® financing at our Ridgewood, NJ, dental practice so patients can find a payment plan that fits their budget. We are glad to help you apply for their low-interest and interest-free plans.
How to Maintain Your Dentures
The manner in which you clean and maintain your dentures depends on whether you have removable or implant-retained dentures.

Removable Dentures

Removable dentures should be taken out at least twice a day for thorough cleanings. Brush your dentures with a soft-bristled toothbrush and non-abrasive cleaner approved for dentures. You must also brush your gums, tongue, and the other soft tissues of your mouth to keep them clean. At night, you should soak your dentures in water or cleansing solution so they maintain their shape. In addition, you should quickly remove your dentures and rinse them with water after eating.
Implant Dentures

Implant dentures are not removable, so it is important to brush your teeth at least twice a day with a soft-bristled toothbrush and non-abrasive toothpaste. We also recommend buying special cleaning tools to clean the area between the dentures and implants. Floss threaders or a Waterpik® may be used to clean difficult-to-reach areas. You should also be sure to clean all soft tissues of the mouth.
"The Highest Level of Expertise"
Patients Truly Believe in Our Ridgewood, NJ, Team
My experience at RDA surpassed exceptional including the work of the welcoming, friendly, patient, professional support staff. Dr. Joung provided sensitivity, patience, and the highest level of expertise while working with me to create a restoration that met my absolute approval. Dentists and professional staff constantly tell me that they are unable to identify which tooth was restored following the implant. I am forever grateful to Dr. Joung and recommend him highly without reservation.
View on Google
From the minute I walked through the door I felt that I was finally in the right place to have the years of neglecting my teeth attended to. I was introduced to the entire staff including both working partners. I felt like royalty and a member of their family. So far I have had two implants, 1 bridge and numerous cleanings. Each visit has been pleasant and everything explained to me is what was actually performed - no surprises. I would recommend RDA to anyone seeking the best in dentistry .
View on Google