Dentures Can Improve Function and Enhance Aesthetics
Dentures have a long history of allowing patients who are missing most or all of their teeth to enjoy a functional and natural-looking smile. Now patients who wear or need dentures can experience much greater stability and comfort with the addition of dental implants. Drs. Jin Ha Joung, Mark Samani, and Min-Hee Cho are specialists in prosthodontics, or the replacement of missing teeth. They design, manufacture, and fit dentures for patients at their dental practice in Ridgewood, NJ, including traditional, partial, and implant-supported dentures. With all the different options available, our doctors can match you with the best solution and design a lifelike, custom-fitting denture for your unique smile.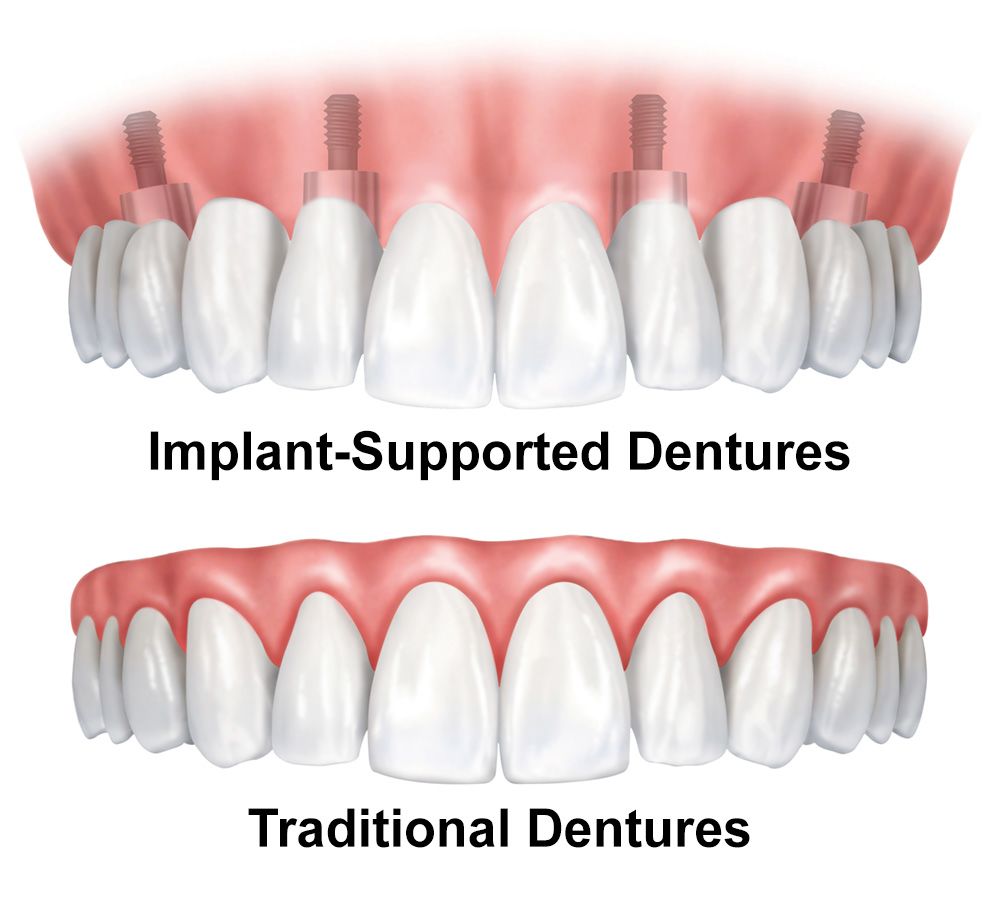 Traditional Dentures
A traditional full denture will replace all of the teeth on your upper or lower jaw, or both. To create this type of prosthetic, your doctor will first take impressions of your gums. A conventional denture is placed after your doctor removes any remaining teeth and waits for the gum tissue to heal. An immediate denture can be worn on the same day that any remaining teeth are removed, because the dentist takes measurements ahead of time. Patients do not have to go without teeth during the healing period if they choose an immediate denture; however, the denture will need to be adjusted after the healing process in order to fit properly. In either case, the denture will have a plastic base that fits over your alveolar ridge, which is the bony ridge beneath your teeth. The color of the base will match your gum tissue so the denture will blend in.
With all the different options available, our doctors can match you with the best solution and design a lifelike, custom-fitting denture for your unique smile.
Partial Dentures
This type of denture is created for patients missing several consecutive teeth in a row. In many ways, a partial denture is similar to a full denture. It will have a gum-colored plastic base that fits over your alveolar ridge, and prosthetic teeth that fill out your smile. However, while full dentures are held in place with suction and dental adhesive, small metal clips will connect a partial denture to your nearby teeth. There is also another type of denture called an overdenture. This prosthetic is designed to fit over a patient's few remaining nonconsecutive teeth, which the dentist leaves in place to support the prosthetic and also to retain mass in the jawbone.
Implant-supported Dentures
While traditional, removable full and partial dentures are highly beneficial, patients can experienced greatly enhanced stability, function, and aesthetics with implant-supported dentures. Dental implants are titanium posts surgically inserted into the jawbone that replace the root of a tooth and support different kinds of dental prosthetics. Over time, they fuse to the jawbone and provide stimulation that can prevent bone atrophy. Your dentist may recommend performing the All-on-4® technique, which secures a full arch denture on just four strategically placed implants. Implant-supported dentures offer the most stability and longevity for teeth replacement solutions.
Choosing Your Denture
Your dentist will help you determine which type of denture best fits your dental needs and your lifestyle. While implant-supported dentures provide the most stability and also halt the bone loss that is a consequence of missing teeth, traditional dentures have benefits of their own. A traditional denture does not require dental implant surgery or bone grafting. Because it does not require recovery from surgery, a traditional denture is also a quicker solution. If cost is a concern, a traditional denture offers a more affordable option while still providing improved function and appearance.
We Are Denture Specialists
Our doctors have advanced training in restorative dentistry. As prosthodontists, they are best qualified to restore the function, health, and aesthetics of patients with missing or deficient teeth. If you choose an implant-supported denture, we can perform the surgery and any necessary prerequisite procedures in our office, so you can receive all of your treatment under one roof.
Learn More
Dentures can make a significant difference in the quality of life for patients with missing teeth, and our dentists and technicians have decades of combined experience designing comfortable and natural-looking dentures to complete your smile. Contact Ridgewood Dental Associates today to learn more, or to schedule an appointment.