Dental Implants
Tooth loss can impact both the appearance and health of your smile and make daily tasks like chewing uncomfortable.
If you have missing teeth or require tooth extraction, our team in Ridgewood, NJ, can rebuild your smile with dental implants.
So why should you consider dental implants?
Dental Implants Offer a Lasting
and Stable Solution for Tooth Loss
Built to Last
Dental implants can last up to 40 years or longer when properly cared for. While you may need to replace your restoration, implants can provide a lifetime of benefits.
Improved Oral Health
Once teeth are lost, the jaw begins to shrink or atrophy. This process can cause additional oral health issues and make you look older. Dental implants are the only treatment which prevents jawbone atrophy after tooth loss.
Restored Confidence
A customized implant-supported restoration from Ridgewood Dental Associates, serving greater Bergen County, can offer a natural look, fit, and feel. Since implants act as artificial tooth roots, you can feel confident that your smile is healthy and stable.
Why Choose Ridgewood Dental
over Other Dentists?
At Ridgewood Dental Associates in Bergen County, NJ, our team is complete with a certified periodontist and prosthodontists, so we can address the causes of any underlying dental conditions before your procedure. We perform every step of treatment in-house to ensure the quality of your care from start to finish.
Our experienced team of dentists and prosthodontists have spent years placing and restoring dental implants and use only the highest quality material to provide patients with safe, effective, and long-lasting results. We are committed to using trusted brands such as Straumann®, Nobel Biocare®, and Zimmer Biomet. Our team will listen to your goals and concerns to recommend the appropriate type of implants. Contact our practice online or call (201) 383-5181 today to begin rebuilding your smile.
Implants Are Versatile
& Can Replace Any Number of Missing Teeth
Single Tooth
If you are missing a single tooth because of trauma, infection, or decay,
our dental professionals
serving Ridgewood and greater Bergen County can provide a custom-made
dental crown
that sits atop your implant and abutment, filling in gaps and
making your smile look complete
.
Multiple Missing Teeth
Dental implants can also secure a
dental bridge
in place. Implant-supported bridges are a great solution for patients who are missing two or three adjacent teeth because they require
no modification to your surrounding teeth
, allowing you to keep your smile as healthy and whole as possible.
Full Arch
If you are missing one or both dental arches, our doctors can design implant-supported dentures that look and feel natural when you smile, speak, or chew. Unlike removable dentures, implant-retained dentures are fastened to your jaw bone at all times, eliminating the risk of slipping or clicking.
How Implants Are Engineered
to Stop Bone Loss
The dentists of Ridgewood Dental Associates, serving greater Bergen County, trust dental implants above other methods of tooth replacement because they are the only treatment designed to stop bone loss. These titanium posts function just like tooth roots and begin fusing with your jaw bone immediately after surgery.
Without dental implants, the bone around the missing tooth would begin to recede. But dental implants help keep your jaw bone healthy and strong, preventing bone recession and prematurely aged facial features.
3 Important Requirements
for Patients Considering Dental Implants
To determine whether you are a candidate for an implant-supported bridge, crown, or denture, our team will carefully evaluate your medical history and your overall health. For optimal results, we will address any underlying medical conditions before proceeding with your dental implant treatment. We may also request x-rays or 3-D scans for a detailed image of your jaw. These scans will help us to assess the structure of your smile and design a customized, comprehensive placement strategy. You may be a candidate for dental implants if you:
Need an Extraction
Severe decay, damage, or periodontal disease can result in the loss of one or more teeth. If an extraction is the only way to restore your smile, artificial teeth supported by implants can help you keep your bite healthy and strong.
Have Healthy Bone Tissue
Sufficient jawbone tissue is necessary to support dental implants. If your initial exams show that you have suffered bone loss, you will typically need to undergo a bone graft or sinus lift to prepare for implants.
Are In Good Overall Health
To safely undergo oral surgery, you will need to be healthy. Smokers will be asked to
stop smoking
, as smoking
increases the risk of implant failure
. Diabetic patients will also need to have
controlled glucose levels
in order to heal properly.
You Should Also Be
Committed to Good Hygiene
Dental implants, crowns, bridges, and dentures are not susceptible to decay. But this doesn't mean you can skimp on good oral hygiene. If poor habits led to dental issues in the past, now is the time to commit to making some changes. Otherwise, you could risk infection at the treatment site or even implant failure, meaning the posts fail to remain in the jaw.
Our Patients
Love What We Do
"Thank you so much for all your help with my extraction, implant, abutment, crown, etc. This has been a real education for me. This has also been an amazing gift. Thank you so much for your kindness and generosity."

Sam G.
We Offer Sedation Dentistry
to Make Treatment More Comfortable
According to a study by the Dental Fears Research Clinic, 10 to 20 percent of adults struggle with severe dental anxiety.
But our team believes that your fear should not stand in the way of the dental care you need. In addition to providing a local anesthetic to numb the treatment area, we offer nitrous oxide sedation and intravenous (IV) sedation to help you achieve deep relaxation during treatment.
Both methods can benefit patients with anxiety or those undergoing a particularly lengthy procedure.
Dental Implants
at Ridgewood Dental Associates
Dental implants can provide a secure base on which customized, natural-looking restorations like crowns, bridges, and dentures can be placed. As a leader in dental implant surgery and placement, Ridgewood Dental Associates is proud to use state-of-the-art implant material and advanced techniques to help restore structure and function to your smile. These small, durable titanium posts are surgically embedded in the jawbone and designed to mimic tooth roots, preventing further bone atrophy at the site of a missing tooth. At our Bergen County practice in Ridgewood, NJ, we offer both traditional implants and All-on-4® to meet the unique needs of our patients and provide long-term dental solutions.
Understanding the Differences
between Traditional and All-on-4 Dental Implants
Traditional Implants
Traditional dental implants are placed at the site of a missing tooth to replace the tooth root. The process of placing dental implants generally requires two separate procedures followed by the placement of your restoration. However, if you do not have sufficient bone tissue to support implants, you may require a preliminary bone graft treatment for optimal results.
All-on-4
The All-on-4 technique offers an alternative for patients who do not have sufficient bone tissue to support traditional implants or would prefer to avoid preliminary procedures like bone grafting. Using only four special implants, our team can place a full temporary denture in a single appointment. You will receive your permanent denture once your implants have fully fused with the bone tissue.
Preparing
for Your Surgery
Some patients will need to undergo preparatory procedures. Bone grafting and sinus lift surgery may be needed to restore receded bone tissue. These procedures can require several months of healing, but provide invaluable benefits for the right candidates.
Before we can schedule your implant placement, you will need to quit smoking or using tobacco. We must also confirm that if a patient is diabetic, the condition is controlled. Your dentist will also need to review a full list of medications and supplements to minimize your risk of side effects, such as prolonged bleeding.
What to Expect
from Implant Placement to Final Restoration
The full timeline for receiving implants can take about four to seven months.
Before & After
Implant Dentistry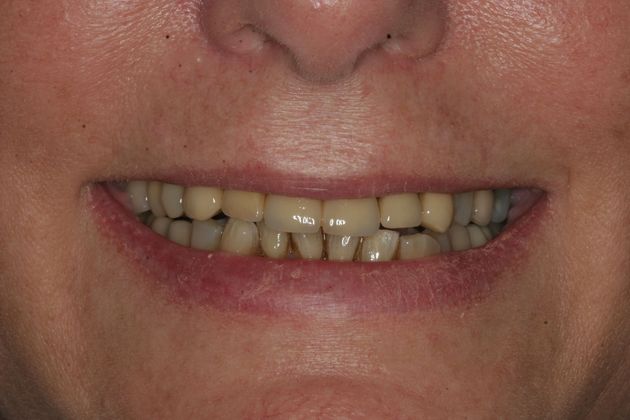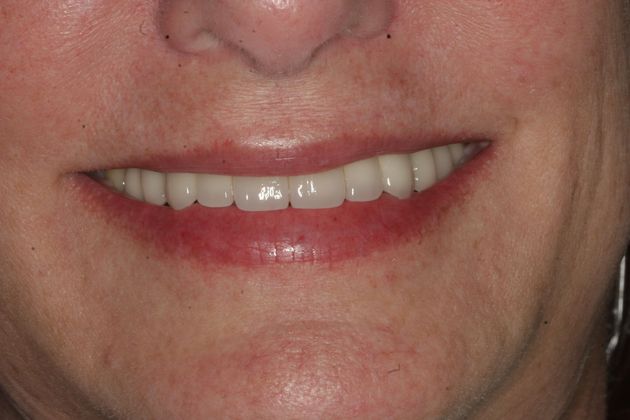 Implants Can Dramatically
Improve Your Confidence and Wellbeing
Prevent Jawbone Recession
Dental implants are the only treatment that can stop jaw recession following tooth loss. This benefit not only helps you retain bone tissue, but also preserves the structure of your jaw and face.
Stability You Can Trust
Dental implants also provide a strong, durable foundation for your prostheses to help you chew, eat, and speak normally.
Natural Function
Once your implant-supported restorations are in place, you can care for them just like natural teeth by brushing twice and flossing at least once a day.
Aesthetic Benefits
Our team can create customized prostheses such as crowns, bridges, or dentures that look and feel natural. The result is a beautiful, full smile.
The Dangers of Leaving
Missing or Decayed Teeth Untreated
Missing or severely decayed teeth can be detrimental to your oral health as well as your overall health. Missing teeth can lead to widespread dental misalignment. In turn, this may result in an imbalanced bite, which can be a major contributor to temporomandibular joint (TMJ) disorder.
Meanwhile, severely decayed teeth can contribute to the development of gum disease, which can lead to gum recession and tooth loss. Gum disease has been linked to serious health conditions like heart disease, stroke, and diabetes. Tooth extraction alone cannot fully restore the health of your smile since the jawbone will begin to recede in the absence of tooth roots.
How Much Do
Dental Implants Cost?
Though the cost of dental implants in Bergen County varies depending upon the type of implant used and the necessary preliminary procedures, we can help to place the cost of treatment within your budget.
For the right patient, treatment options like All-on-4® can be much less expensive because they require less time and fewer materials and implant posts. During your dental implant consultation, our dentists can give you a more accurate estimate of your total treatment costs.
Ridgewood Dental Associates
Offers Flexible Financing Options
If you are ready to restore the health and beauty of your smile but are worried about the cost, we offer financing options through CareCredit® to make this vital procedure more affordable.
CareCredit is a trusted third-party lender that offers flexible, low-interest repayment options so that Bergen County patients of our Ridgewood, NJ, dental office can pay for their restorative treatment on a plan that fits their budget.