Are you dreaming of a straighter smile but turned off by the idea of braces?
Here at Ridgewood Dental Associates, we offer Invisalign® to help patients straighten misaligned teeth discreetly and effectively.
Learn how we can help you achieve a more attractive smile with this revolutionary orthodontic system at our Ridgewood, NJ, office...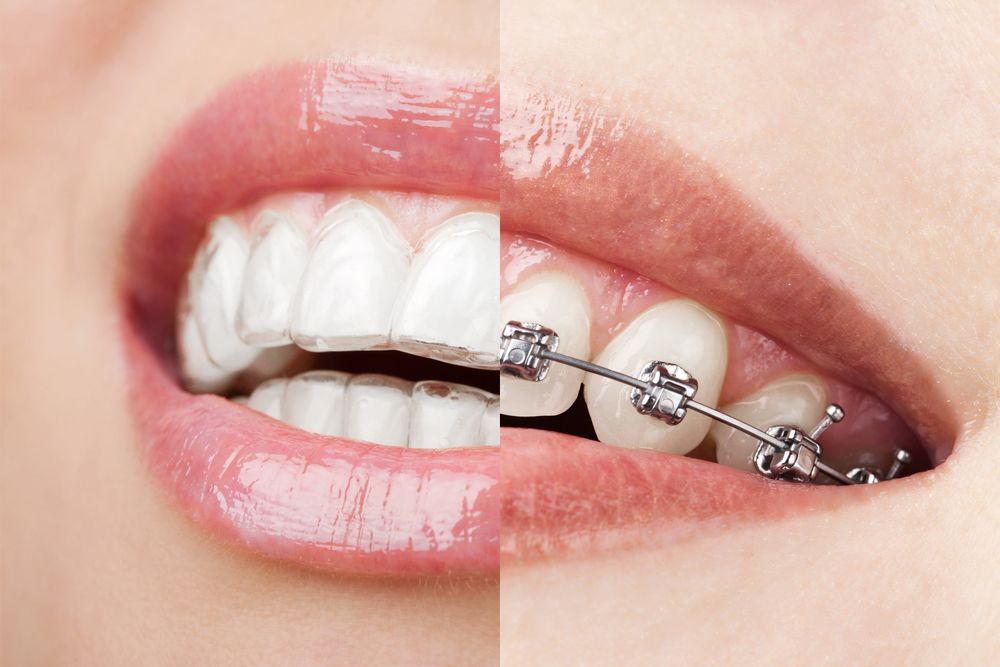 The Unbeatable Benefits of Invisalign
Discreet
Braces can make patients feel self-conscious about their appearance. Invisalign clear aligners are virtually invisible, making them easy to fit into any lifestyle.
Comfortable
Traditional braces use brackets and wires that can irritate the inside of the mouth and cause discomfort. Aligners are made of clear, BPA-free plastic that is smooth to the touch and extremely comfortable compared to braces.
Easily Removable
Brushing and flossing your teeth with braces can be a challenge. Aligners can be easily removed in seconds, making it easy and convenient to maintain optimal oral health while undergoing orthodontic treatment.
No Dietary Restrictions
Patients with braces often have to give up their favorite sticky, chewy foods to avoid getting them stuck in their brackets. Because aligners are easily removable, patients have no dietary restrictions during treatment.
Boosted Confidence
Your smile is often the first thing people notice about you. Using aligners can help you make a memorable first impression and feel more confident in everyday life by giving you a more attractive appearance.
My experience at RDA surpassed exceptional including the work of the welcoming, friendly, patient, professional support staff. Dr. Joung provided sensitivity, patience, and the highest level of expertise while working with me. I am forever grateful to Dr. Joung and recommend him highly without reservation.
View on Google
From the minute I walked through the door I felt that I was finally in the right place to have the years of neglecting my teeth attended to. I was introduced to the entire staff including both working partners. I felt like royalty and a member of their family. Each visit has been pleasant and everything explained to me. I would recommend RDA to anyone seeking the best in dentistry .
View on Google
Invest in Your Oral Health with Invisalign
While Invisalign is typically thought of as a cosmetic dental procedure, it provides a host of oral health benefits as well. Straighter teeth are easier to clean because they provide fewer hard-to-reach areas for plaque to accumulate, which also helps you avoid dental issues such as cavities or gum disease from occurring in the future. Straighter teeth can also alleviate symptoms of TMJ by correcting bite issues and relieving pressure in the jaw. By straightening your teeth, we can enhance the appearance of your smile while reducing the risk of other serious dental conditions.
Take a Look at How Invisalign Works
A Simplified Treatment Process
What Happens During Invisalign Treatment
"If I Could Leave More Stars, I Would."
I love Ridgewood Dental Associates! Everyone that works there is incredibly professional, warm, kind and welcoming. The atmosphere is wonderful, and every time I go there it is a pleasant experience. They go above and beyond in every way, and the care they provide is excellent. I would highly, highly recommend Ridgewood Dental Associates!
View on Google
Wow where to begin!! Such an AMAZING group of people that are devoted, fun, and caring. Just walking into there beautiful, inviting, and state of the art office, you already get a sense that you are in such an wonderful place...like you never left home. Couldn't be more comfortable in a place knowing that you will get the TOP of the line care. Do not think, or ever doubt this group of amazing doctors and staff...if I could leave more stars of a review I would!!
View on Google
More Invisalign Options For All Your Dental Needs
Invisalign Express
Want straighter teeth in a fraction of the time? You may qualify for Invisalign Express if you have minor misalignment issues. Invisalign Express can deliver results in six months or less, depending on the case.
Invisalign Teen
Are you interested in clear aligners for your teenage child? Invisalign Teen has an indicator on the trays to determine if they are being worn for the appropriate amount of time each day.
Invisalign Attachments
In some instances, we may recommend adding attachments as part of Invisalign treatment. These are tiny tooth-colored bumps bonded to the teeth to achieve specific tooth movement and positioning.
Maintaining Your Stunning Results
After you've achieved your desired results, you'll have to take a few simple steps to maintain them. Patients must wear the last set of their clear aligners (or a custom retainer) to bed every night. This ensures the teeth remain in their proper position and don't shift out of place. Failing to do so can require costly retreatment in the future. We also recommend keeping up with your routine dental visits at our Ridgewood office and practicing good oral hygiene habits.