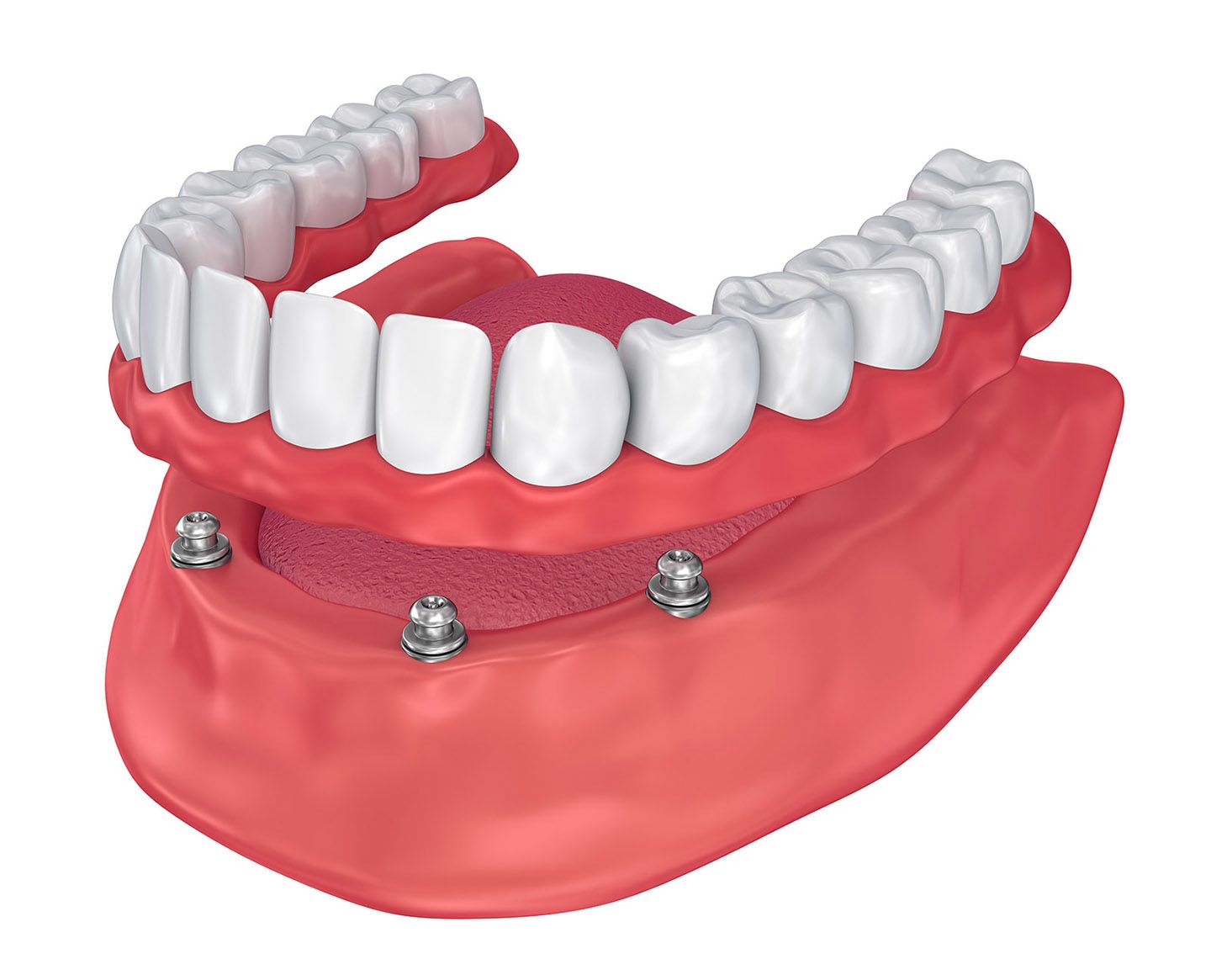 If you're missing all of your teeth, you may want to consider All-on-4®. This solution to major tooth loss is able to support a full set of dentures on just four dental implants. That allows patients to bite, chew, and smile once more with renewed stability and confidence.
Dr. Jin Ha Joung, Dr. Mark Samani, and Dr. Min-Hee Cho have fielded a number of questions about All-on-4, helping patients in the Ridgewood and Bergen County, NJ area understand the various advantages of treatment. Below, we want to discuss some of the cons and drawbacks of this generally effective system.
How All-on-4 Works
With All-on-4, a full denture is held in place using just four dental implants. The four implants are strategically placed to evenly distribute weight along the dental arch. This means maximum stability when patients bite and chew. A temporary full denture can be placed once the four implants are in, allowing patients to experience a fully restored smile immediately.
That sounds great, yes, but here are some disadvantages that people should keep in mind.
Patients Need to Have Sufficient Bone Density
In order for patients to qualify for All-on-4, they need to have sufficient bone density along their dental arch. This is important for supporting the four dental implants. Unfortunately, when people have missing teeth, they tend to suffer from bone loss, which means that the jawbone may not be able to support the dental implants.
Potential Issues with the Feel of Your Restored Bite
When the All-on-4 implants are anchored and a patient gets the temporary denture put in place, the feel of a patient's bite is not always ideal. When the more permanent denture is crafted, the feel of the bite is typically better, but patients may have some comfort issues with their temporary denture that take getting used to.
Possible Issues with the Appearance of Your Restored Bite
In addition to issues with the feel of the bite, some patients may also have problems with the look of the temporary denture. The team at Ridgewood Dental Associates wants to stress that we try to make the procedure as functionally and aesthetically effective as possible, and that the immediate benefits of All-on-4 do have their own drawbacks.
All-on-4 Dental Implants Don't Cover the Molar Area
Getting back to the issue of bone density, the placement of All-on-4 implants will not target the molar area per se. This could mean further bone loss along the back of the dental arch. This is why having good bone density is so key to the candidacy and success for All-on-4.
Considering Alternatives to All-on-4
If All-on-4 is not ideal for you or you're having second thoughts because of these listed drawbacks, there are alternatives to consider. Traditional dental implants may be more ideal for you and your needs, or you may want to consider a traditional denture. We can go over alternatives to All-on-4 in more detail during your visit to the practice.
Learn More About Tooth Replacement
If you live in Bergen County and would like to learn more about your options for treating tooth loss, be sure to contact our skilled cosmetic and restorative dentists. The team at Ridgewood Dental Associates can be reached by phone at (201) 580-3781.
Related to This