All-on-4 vs. Traditional Dental Implants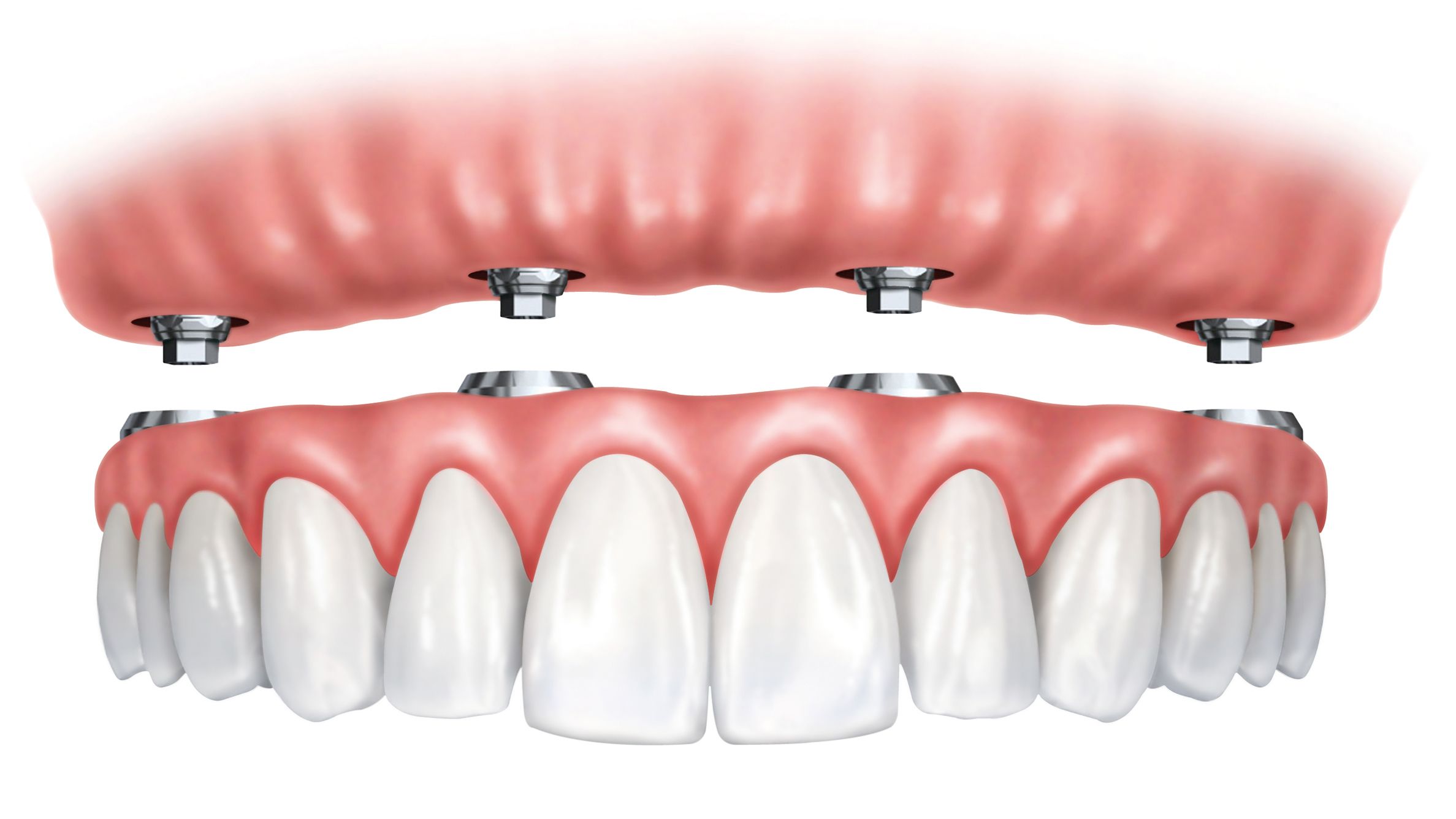 Implant dentistry has so many important benefits for people who are missing a tooth or multiple teeth. Thanks to the surgical placement of implant posts, a crown, bridge, or denture can be supported and prevent bone loss and gum recession. Dr. Jin Ha Joung, Dr. Mark Samani, and Dr. Min-Hee Cho have helped countless patients in the Ridgewood, NJ area thanks to implant dentistry. The have healthy smiles again that look natural and are sturdy when biting, chewing, and speaking.
In addition to traditional dental implants, it is also possible for patients to get All-on-4® to support a full denture. Let's consider implant dentistry for complete tooth loss and why one of these options might be more ideal for you than the other.
About Traditional Dental Implants
Traditional dental implants are titanium posts that are surgically anchored into your jawbone and gum tissue. Over the course of a few months, osseointegration happens. This means that the implants fuse with the jawbone, functioning as an artificial tooth root.
After the process of osseointegration has occurred, the dental implant will be strong enough to support an appliance that restores your ability to bite, chew, laugh, and smile.
How Many Dental Implants Are Needed for a Full Denture?
This can vary. Generally five or six dental implants are customary for a full dental arch restoration with a denture. That said, more may be required based on the nature of the patient's current dental health and the state of their dental arch.
During a consultation at Ridgewood Dental Associates, our team can offer insight into the number of implants required for treatment and why that may be most ideal for you and your needs.
About All-on-4
All-on-4 is another type of full arch restoration treatment that uses dental implants. Rather than five or more implants, All-on-4 is designed so that only four dental implants are necessary. This means a less involved surgical procedure to have a fully functioning upper dental arch.
Why Only Four Implants Are Needed
With All-on-4, the implants are all placed at precise angles to evenly distribute pressure and weight along the entire dental arch when a patient bites or chews. Traditional dental implants, by comparison, are positioned to go straight into the dental arch rather than at an angle, which means the distribution of stress is different.
Candidacy for These Two Procedures
For All-on-4, good candidates should have sufficient jawbone structure in place to support the four strategically placed dental implants. Without sufficient bone structure, traditional dental implants with an initial bone grafting procedure would generally be more ideal.
We should note that if bone grafting is required, it will add time to the overall treatment process as well as expense.
Which Treatment Option Is Right for Me?
For full arch restorations, traditional dental implants and All-on-4 are both good options to consider. The right option for you can be determined during a visit to our practice. We will take time to answer all of your questions and address your concerns. We can even recommend treatments that do not involve dental implants if these procedures are better suited to your price range.
Learn More About Treating Tooth Loss
If you are missing teeth and would like more information about restoring your ability to bite and chew, be sure to contact our skilled cosmetic and restorative dentists. You can reach Ridgewood Dental Associates by phone at (201) 652-2474.
Related to This