Treating the Various Stages of Tooth Decay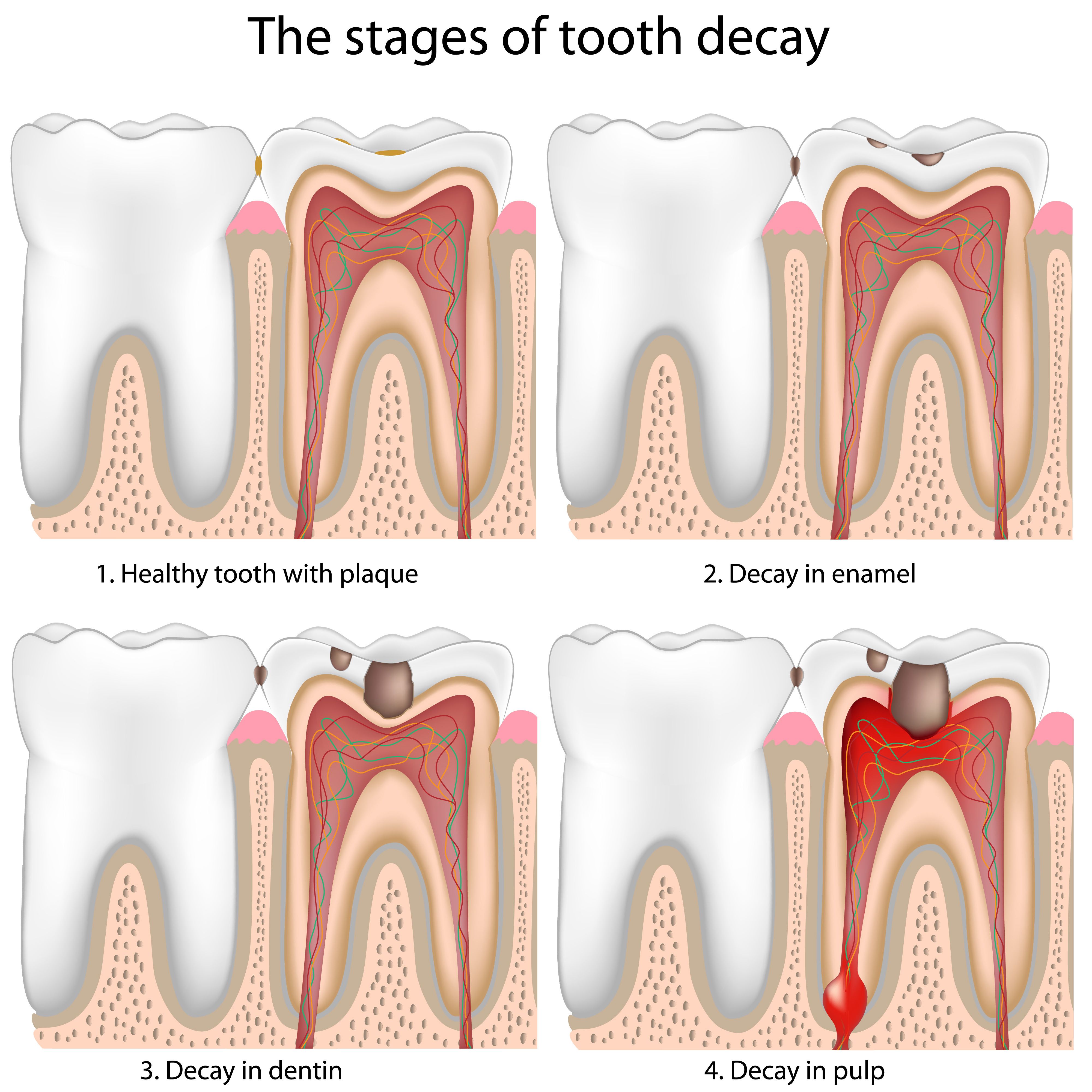 Each day, the teeth break down foods that contain sugars, starches, and acids. Sugars and starches attract bacteria, which combine with food particles to form a hard, sticky substance called plaque. Plaque and tartar damage healthy tooth enamel, resulting in tooth decay.
Restorative dentistry treatments repair damaged teeth to restore strength and function after decay has occurred. Many patients may not realize that tooth decay is a gradual process that occurs in stages. We offer treatment for the various stages of tooth decay at our Ridgewood, NJ practice so that we can restore the health and strength of a patient's smile no matter how minor or severe decay may be.
Stage One: Plaque
Tooth decay begins with the formation of plaque. Plaque is a hard, sticky substance that builds up on the base of the teeth. Plaque can be brushed or flossed away with regular at-home oral hygiene habits, but when plaque is left on the teeth, it hardens into a substance called tartar. The best way to remove tartar and prevent it from damaging tooth enamel is by undergoing a professional dental cleaning.
During a dental cleaning, we use tools that can effectively and comfortably remove plaque and tartar. We recommend biannual dental exams and cleanings, as these are the best defense against tooth decay.
Stage Two: Damaged Tooth Enamel
In its early stages, tooth decay only reaches the outermost layer of the tooth, the enamel. Tooth decay will create holes in tooth enamel; these holes are known as cavities. Cavities are a pretty minor dental problem that can be treated with a dental filling.
A dental filling repairs damaged tooth enamel and seals off the tooth so that bacteria cannot enter the more sensitive inner layers of the tooth. It is important to treat dental cavities right away to prevent more advanced stages of tooth decay.
Stage Three: Damaged Dentin
Right beneath the tooth enamel is the dentin. Dentin is the structure that protects the nerves and roots of the tooth. However, the dentin is not as strong as tooth enamel. If a dental cavity is not treated, decay is likely to advance and the dentin will be damaged.
Dentin is more sensitive than tooth enamel, so this advanced stage of tooth decay may cause pain, discomfort, or increased tooth sensitivity for the patient. Although damaged dentin is a greater concern than damaged tooth enamel, there are restorative dentistry treatments that can address this problem. Depending on the extent of damage, our dentists may repair damaged dentin using an inlay, onlay, or dental crown. Each of these restorations replaces damaged tooth structure and restores a layer of protection around the pulp of the tooth.
Stage Four: Damaged Nerves
The most advanced stage of tooth decay causes damage to the nerves and other sensitive tissues at the center of the tooth. This damage causes the tissues to become inflamed and results in a root canal infection. It is extremely important to treat a root canal infection. If left untreated, a root canal infection can easily lead to tooth loss.
Root canal therapy is the most effective solution for a root canal infection. During this procedure, damaged pulp is removed from the tooth, the length of the tooth roots are cleaned, and the tooth is filled with a rubber-like compound. As an added precaution, the tooth will be treated with a dental crown to help prevent a future infection.
Contact Us
Any stage of tooth decay poses a threat to the health, strength, and function of the teeth. At Ridgewood Dental Associates, we offer a comprehensive range of restorative dentistry treatments that will repair tooth decay, whether minor or major. To learn more about these treatments, and how they can help restore your oral health, contact us at your earliest convenience.
Related to This