Are You a Good Candidate for a Dental Mouth Guard?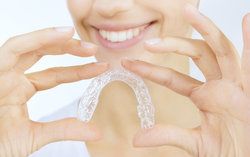 Mouth guards are protective dental appliances that fit over the teeth and prevent damage. Custom dental mouth guards are commonly recommended to patients who are at risk of damaging their teeth due to sporting activities or certain oral conditions. This general dentistry service helps patients maintain good oral health. At Ridgewood Dental Associates, mouth guard candidates include athletes and patients who suffer from bruxism and TMJ disorder. The customized dental mouth guards that we provide to our patients are superior in fit, comfort, and function to those found over-the-counter in sporting goods stores.
Mouth Guard Candidates
Mouth guards can be useful in protecting the teeth from the potential damage of traumatic injuries, which is why they are widely known as an athletic appliance. However, mouth guards can also protect the teeth against harmful oral habits. They hold the jaw and teeth in proper alignment, which can be useful in the treatment of other oral health problems. Because of the variety of benefits of dental mouth guards, many patients can benefit from their use. Ideal candidates for dental mouth guards include:
Athletes: Athletes do account for a large percentage of mouth guard users. However, many are surprised to learn that it is not just those who participate in contact sports who can benefit from the use of a dental mouth guard. Most sports and athletic events carry a risk of oral injury, which is why dental mouth guards are recommended for a wide range of physical activities, including bicycling, baseball, and skateboarding.
Patients who clench or grind the teeth: Teeth grinding and clenching are two of the most harmful oral habits. Over time, these habits place an excessive amount of force and pressure on the teeth and are likely to wear down and damage tooth enamel. Since these habits are typically performed unconsciously while the patient sleeps, wearing a mouth guard at night can be useful in protecting the teeth.
Patients who suffer from TMJ disorder: TMJ disorder is a condition in which the jaw joint becomes stiff, inflamed, or misaligned. This may produce a number of uncomfortable side effects, including headaches and lock jaw. While the exact cause of TMJ disorder is unknown, teeth grinding, clenching, and poor alignment of the jaw are all likely contributors. The use of a dental mouth guard has proven to be successful in alleviating the painful side effects of TMJ disorder.
Benefits of Wearing a Mouth Guard
Patients who wear a mouth guard are at a decreased risk of:
Tooth loss
Tooth enamel erosion
Gum recession
Chipped teeth
Fractured teeth
Requiring dental restorations to replace missing teeth or restore damaged teeth
Schedule an Appointment
If you believe that you can benefit from a dental mouth guard, we can provide you with one that is custom-fit to your teeth, providing superior comfort and function. Schedule an appointment with one of our skilled dentists at Ridgewood Dental Associates to find out if a dental mouth guard can be beneficial to your oral health. We look forward to hearing from you!
Related to This