Types of Tooth Discoloration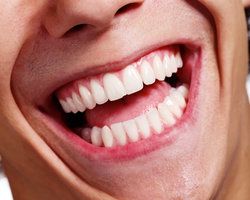 Everybody wants a brighter, whiter healthy smile. Throughout life, however, other factors can leave teeth dull, yellow, and otherwise discolored. Our team at the cosmetic dentistry office of Ridgewood Dental Associates utilizes several methods to combat tooth discoloration. But choosing the right method to correct tooth discoloration all depends on what type of discoloration has affected your teeth.
The Two Types of Tooth Discoloration
Most dentists are able to divide tooth coloration into two defined types:
Extrinsic Discoloration: Extrinsic dental stains are the types of stains that occur on the outer enamel of the tooth. These types of stains are commonly caused by food and drink like coffee, tea, wine, and soft drinks, as well as habits known to cause tooth discoloration such as smoking and poor dental hygiene. Extrinsic discoloration tends to appear gradually with age.
Intrinsic Discoloration: Unlike extrinsic discoloration, which affects the enamel on the outside of the tooth, intrinsic discoloration occurs within the inner part of the tooth (also known as the "dentin"). Intrinsic discoloration has much less to do with what you've had to drink over the years, and more to do with internal factors such as nerve damage, dental trauma to a developing tooth, or excessive exposure as a child to fluoride or tetracycline antibiotics.
Treating Different Types of Tooth Discoloration
Treatment is much easier once you know whether your teeth are stained by extrinsic or intrinsic discoloration. Because these two types of discoloration come from very different causes, they also require very different courses of treatment.
Treating Extrinsic Discoloration: In many cases, regularly scheduled dental cleaning appointments are often enough to effectively treat extrinsic dental stains. Further discoloration may be corrected with whitening toothpaste or mouthwash, or even a professional or at-home course of tooth whitening.
Treating Intrinsic Discoloration: Because intrinsic discoloration affects teeth on a much deeper level than extrinsic discoloration, it is also a more complicated affliction for cosmetic dentists to correct. Some cases of intrinsic discoloration can still be helped by a series of aggressive whitening treatments. But in cases where an adult tooth was formed and erupted discolored due to factors like tetracycline exposure, or when nerve damage has led to a "dead tooth" after a root canal, the bleaching agents of a traditional tooth whitening treatment will have little to no effect. In cases like this, a patient's best course of action to recapture a white smile is often to cover the discolored teeth completely. Depending on the severity of the discoloration and the amount of teeth affected, your dentist may recommend porcelain veneers or dental bonding to correct intrinsic discoloration issues.
Contact Your Cosmetic Dentistry Specialists Today
You don't have to deal with tooth discoloration quietly - whether your tooth discoloration is extrinsic or intrinsic in nature, our team of skilled professionals at Ridgewood Dental Associates is ready to restore your teeth to the natural shine they deserve. Contact our practice at Ridgewood Dental Associates to learn more about your options for treating tooth discoloration today.
Related to This